Weddings by Fresh Flower Bar
Expertly designed florals and events for all of life's celebrations.
Best of Gold Coast Weddings
We are humbled and honored to have received such a prestigious award after only three years in business.
Thank you for voting us Best of Gold Coast Wedding Flowers!
Wedding Florals
For ceremonies big or small, our elevated and elegant floral arrangements, bouquets, and installations will adorn your venue and create the perfect atmosphere for celebration.
Wedding & Event Planning
In addition to stunning floral design, we also offer complete event planning services, including the procurement of flooring, dining, and other related decor. Our dedicated project manager creates your event timeline, coordinates with vendors, and oversees the perfect execution of your event.
View the Galleries
Browse the galleries from our featured weddings, and start daydreaming about the florals for your special day!
What should I expect to pay for wedding flowers?
Fresh Flower Bar has a minimum investment of $4,000 for weddings. The Fresh Flower Bar style is lush and sophisticated, and pricing is commensurate with the level of design and artistry provided. 
Can you guarantee the specific flowers I want?
We do our best to source any flowers you request, but we cannot guarantee every flower will be available. Flower availability varies by season, and the entire floral industry is experiencing shortages of various blooms. We will always work within your selected color palette.
Can you recommend any photographers, makeup artists, or other vendors?
Yes, we have an extensive list of vendors that we love to work closely with.
What is Fresh Flower Bar's process?
Once your aesthetic and elements have been refined and approved, we begin the planning process. Your wedding flowers are ordered approximately 3-4 weeks prior to your wedding day, and other elements like vases, candles, lanterns, etc. are sourced. Your blooms arrive in our studio to be conditioned and prepped for design. We will arrive to your venue on the day of your wedding and place all centerpieces, create any larger floral installations, set up candles and lanterns, and distribute bouquets and boutonnières. 
The day after your wedding, we will return to your venue to collect any leftover florals, vessels, candles, and other rented items. If your vessels have been purchased, your guests may take them home at the end of your evening.
How do I book Fresh Flower Bar for my wedding?
Please call our studio at (203) 800-3830, or email Sarah at freshflowerbar@gmail.com. Sarah will then be in touch to schedule a consultation with the bride (and any guest of her choosing) either at our floral design studio, or over the phone. 
Following the consultation, a hold will be placed on our calendar to reserve your wedding date. Sarah will create a proposal outlining the wedding aesthetic, detailed information about floral elements, and pricing. 
To secure your date on our calendar and book Fresh Flower Bar, a 25% deposit is required. The remaining balance of the investment is due ~4 weeks prior to the wedding date, so your flowers can be ordered.
Do you travel for weddings?
Yes, the Fresh Flower Bar team will happily travel to your venue!
How far in advance do I need to book?
We typically start the booking process with brides between 6-9 months in advance. Your floral designer should be your next vendor booked following your venue.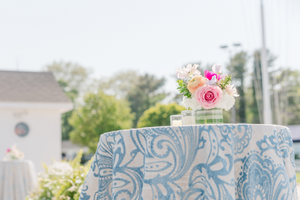 Inquire about Weddings & Events
Please call our studio at (203) 800-3830, email Sarah at hello@freshflowerbar.com, or inquire through the link below.

We look forward to speaking with you!

INQUIRE

Fresh Flower Bar